Touareg Tents For Sale - Fireproof With Stove Hole & Flap
Regular price

Sale price

$905.00
✔️ Next Day Delivery
✔️ 0% Finance Available
✔️ SGC Certification
✔️ Hassle-Free Returns
Description

Touareg Tent Fireproof With Stove Hole & Flap

Looking for an extra-large, family-sized bell tent for your next camping trip? Look no further than the fireproof Touareg tent with stove hole and flap! This massive Touareg bell tent can comfortably accommodate up to 10 people, with a floor diameter of 500x400cm and a peak height of 300cm.

All our tents are made from high-quality materials like 360gsm fireproof 100% cotton canvas, which are water-resistant, rot and mould resistant, anti-UV, and flame retardant.

The floor is made from 500gsm ripstop PVC with a zipped in groundsheet so you can roll up the walls on the hot summer days. The poles are made from strong 32mm diameter steel with a brass coating. Our heavy-duty Touareg bell tents come with 14 steel pegs for the groundsheet tabs and 18 twist pegs.

The Touareg tent also features two door entrances at either side. This great feature can deliver a complete game changer whilst camping. It offers you the possibility to connect to your car/van or camper to one side giving you the extra space you may need. It also offers you two completely different landscapes, you could enjoy the sun set on one side and the sun rise on the other, all from the comfort of your bed.

The Touareg tent has 2 zipped in door windows on either side on both doors creating an abundance of light, with mosquito netting for protection. The fireproof Touareg tent also has a pre-installed stove hole and flap giving you the option to have a stove installed to create the ultimate glamping pitch.

Top Specifications of Touareg Bell Tent:

Size: 500x400x300cm

Floor diameter: 500x400cm

Peak height: 300cm

Wall height: 45cm

Two doors and multiple windows for extreme ventilation

Door height: 188cm

Door width: 183cm

Material: 360gsm fireproof 100% cotton canvas.

Waterproof, rot and mould resistant, anti-UV, flame retardant to stand against rain and other weather conditions.

Floor: Thick 500gsm bath tub effect ripstop PVC floor with zipper, detachable.

Extra thick reflective guy ropes for better stability and vision

Pole: 32mm diameter steel pole with brass coating, 1.2mm thickness.

Centre pole -1pc. 25mm diameter steel pole with brass coating, 1.0mm thickness.

Straight poles at door -4pcs

Fire rating Canvas BS 7837:1996

Why Should You Buy a Touareg Tent?

There are a number of reasons why the Touareg tent makes an excellent choice for your next camping trip.

First, its enormous size means that it can comfortably accommodate up to 10 people.

Second, the high-quality materials used in its construction make it durable and long-lasting.
Third, the Touareg bell tent is easy to set up and take down, thanks to its simple pole structure.
Fourth, the tent comes with a number of handy features, like a detachable floor fireproof canvas, stove hole, and 14 steel twist pegs for the groundsheet tabs.
Fifth, Better air flow because of ventilated fabric, windows, and doors.
Six, Easy to fold and unfold with a manageable pack size
Finally, the Touareg is competitively priced and comes with a 1-year warranty.

So if you're looking for a large, family-sized tent that is made from high-quality materials and is easy to set up, the Touareg tent is the perfect choice for you. This high detail tent can be purchased from our online store for next day delivery.

For more information and advice, you can search our videos on youtube, drop us a call or catch us on our online chat. Choose from a complete range of bell tents at Bell Tents Sussex. Contact us for more detailed information or purchase online today.
Specifications

- 100% Cotton Canvas 350gsm & 540gsm PVC Flooring
- Fireproof Material
- Packing Size 95cm x 40cm x 40cm
- 53kg pack weight
- Floor space needed 7m x 6m
- Full double mesh mosquito door
- Extra thick and robust ropes with reinforced pegs for extra support
- High-quality waterproof material
- Access points for electrical appliances, such as phone chargers, with EHU sections
- Poly Vinyl Chloride (PVC) lined bags and pegs for canvas tents
- Mould, water, and rot repellant for all weathers
- A-frame loaded with springs at 22mm
- Additional lighting options provided by a pole hook
- The entire sidewall can be rolled up on hot sunny days
Shipping outside the UK

Import Duty & Tax

The UK value-added tax (VAT) of 20% will be deducted from all the products online. This will then need to be paid on delivery including any other fees.

Please be advised that international deliveries originating from the UK may incur import and tax fees for which the recipient will be solely responsible.

It is the responsibility of the customer to fully understand and take into account any associated fees prior to making a purchase. 

Delivery Times

Please be informed that all deliveries to the USA and Europe are estimated to arrive within 2-3 business days, with some exceptions potentially taking up to 5 business days. Deliveries to the rest of the world are estimated to arrive within 7-14 business days. Delivery times may vary and the estimated arrival times are just that - estimates. The seller cannot guarantee a specific delivery date.
Return Policy

Returns & Refunds Policy

we understand that there may be instances where you may wish to return a purchase. Our goal is to ensure that you are completely satisfied with every delivery, and if for any reason you are not, we are here to help.

To initiate a return, please contact us within 14 days of receiving your delivery. When returning an item, it must be in its original packaging and in a resalable condition, with the exception of faulty products. We cannot accept returns for items that have been used, are wet or moldy, or do not meet our standards for resale.

Once we receive your returned item and it has been processed by our returns department, a refund will only be issued if the product meets the requirements. Please note that we can only refund the cost of the product and cannot cover the cost of delivery.

Missed Delivery

If for any reason you are not available to receive the delivery, we will make a second attempt the next working day. If a second delivery attempt is unsuccessful, the package will be returned to us and a refund will be issued, minus the cost of delivery.

Cancelled Pre-Orders

For cancelled pre-orders, a restocking fee of 20% of the total order will be applied to all refunds. For more information on pre-order cancellations, please visit our Terms and Conditions page.

Returning

It is the responsibility of the customer to ensure that returned products arrive back to us in good condition. For your protection, we strongly recommend purchasing insurance for the item in case it becomes lost or damaged during transit. If you need assistance in arranging for the return of the item, please do not hesitate to contact us and we will assist in any way we can. For the returns address, please reach out to Bell Tent Sussex.

 

Air Beds

We recommend that all air beds be tested by the customer upon delivery to ensure proper functioning and to address any manufacturing defects, including faulty valves and stitching that may cause the mattress to leak. However, we only offer a 14-day returns policy for mattresses, and we cannot cover damages caused by wear and tear, misuse, or damage not caused by the manufacturing process.

Manufacturer's Guarantee

All of our tents are covered by a 12-month manufacturer's guarantee against defects in manufacturing, such as stitching that causes the tent to leak. However, this warranty does not cover damage caused by wear and tear, misuse, or damage not caused by the manufacturing process, including damage from high winds. All trade purchases and tents used full time are not covered with 12-month manufacturer's guarantee.

Please note that the information provided above is a summary of our return and warranty policy, and additional terms and conditions may apply. If you have any questions or concerns, please do not hesitate to contact us.
Hurry, only 6 items left in stock!
Share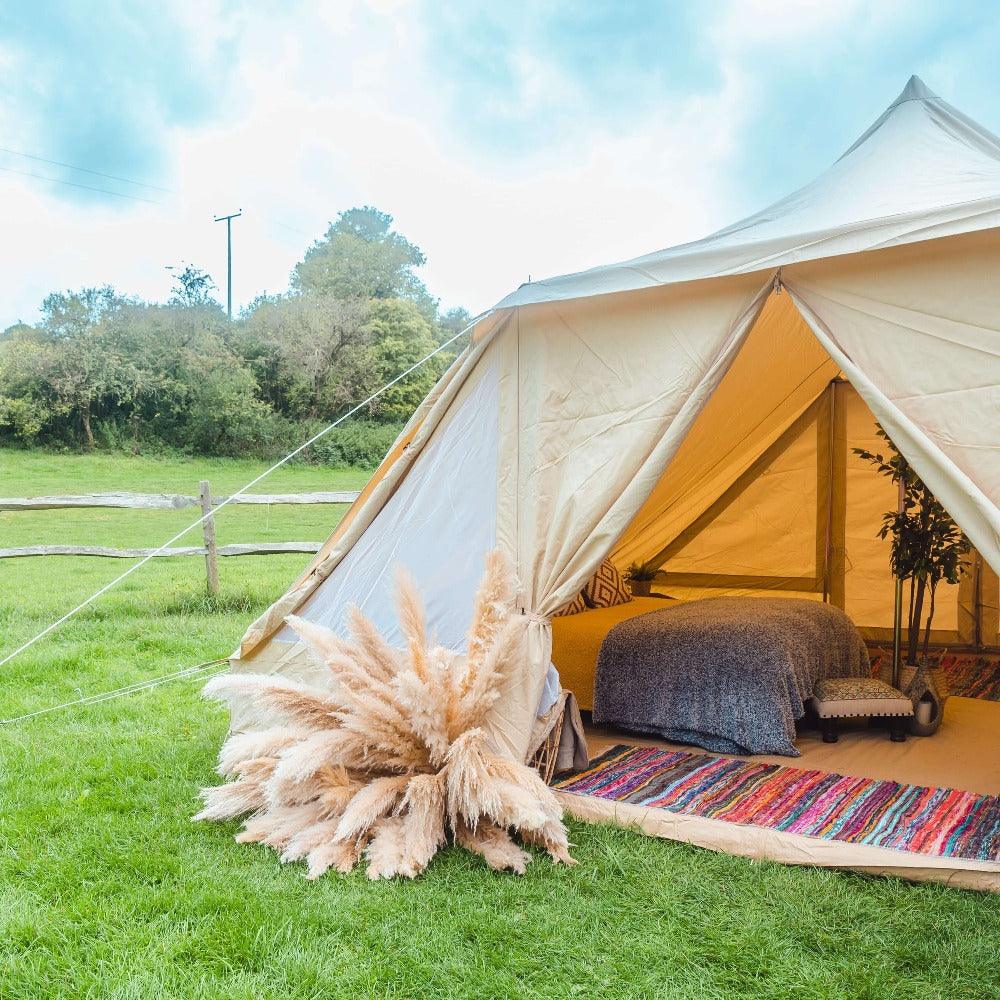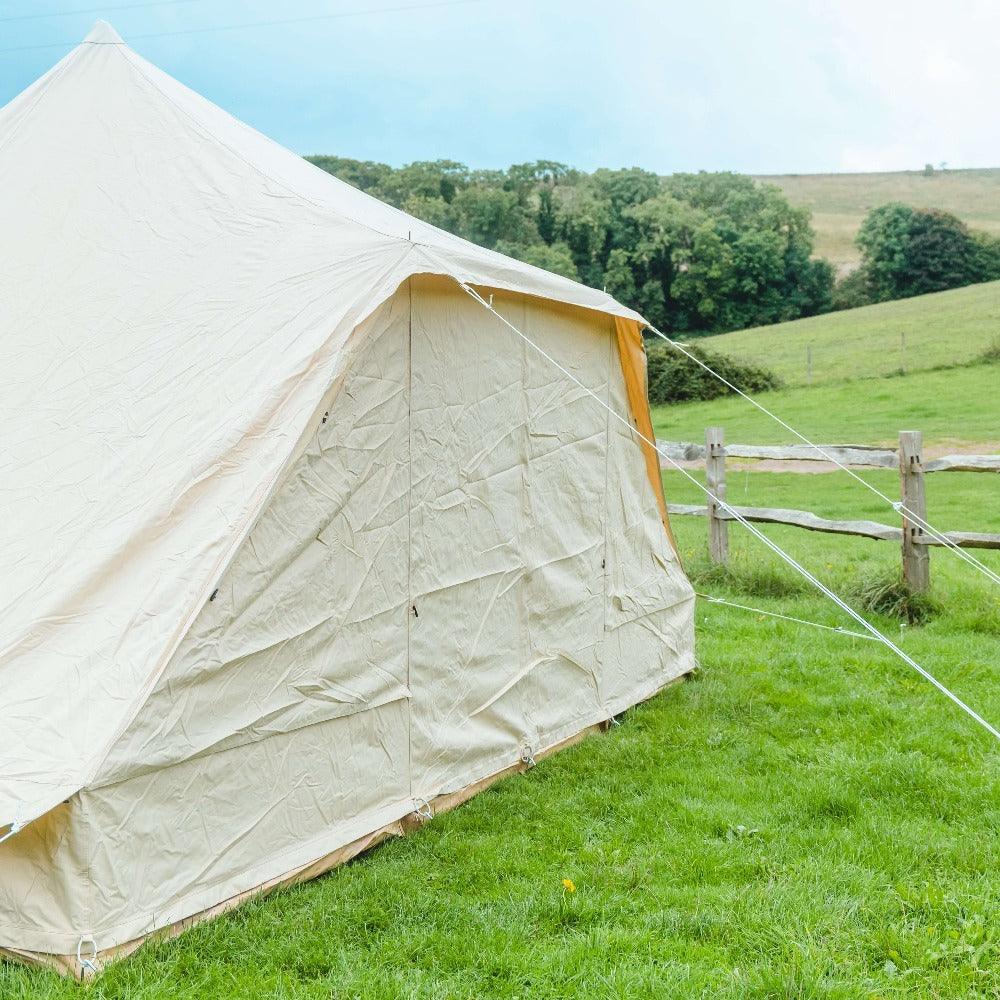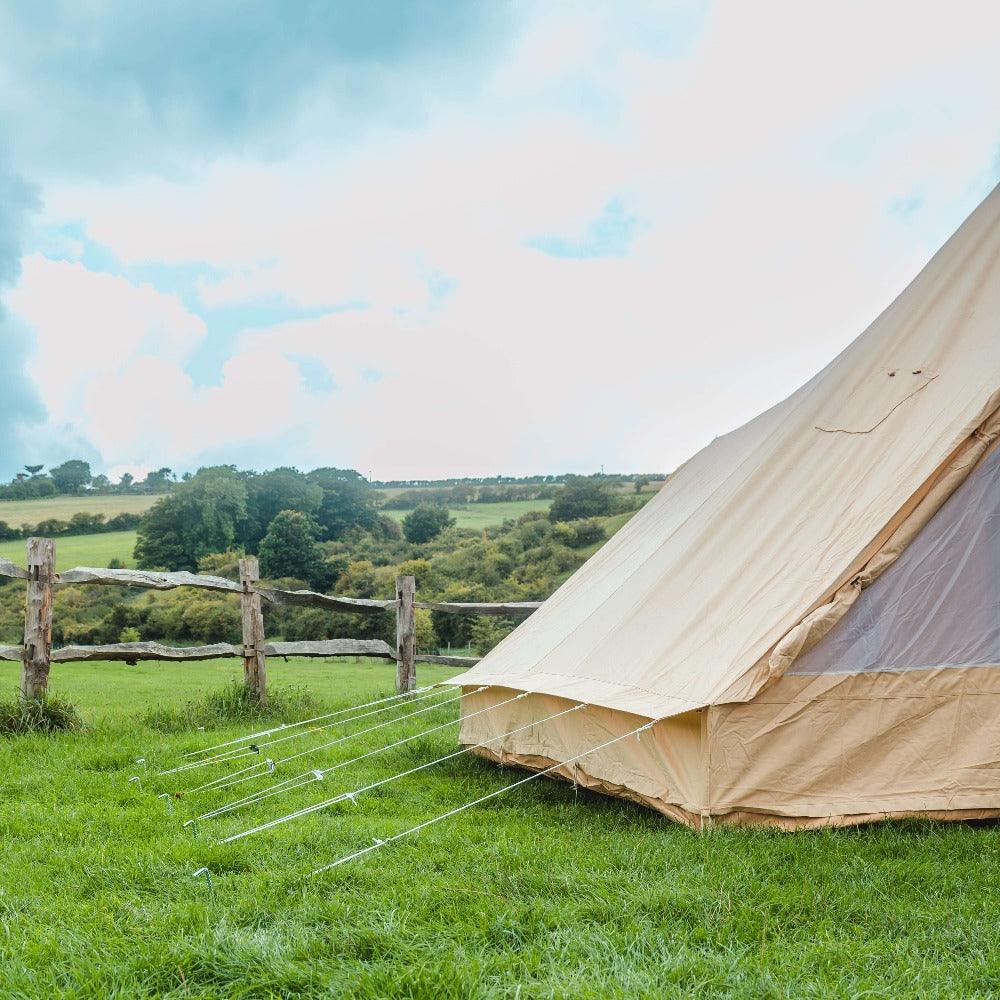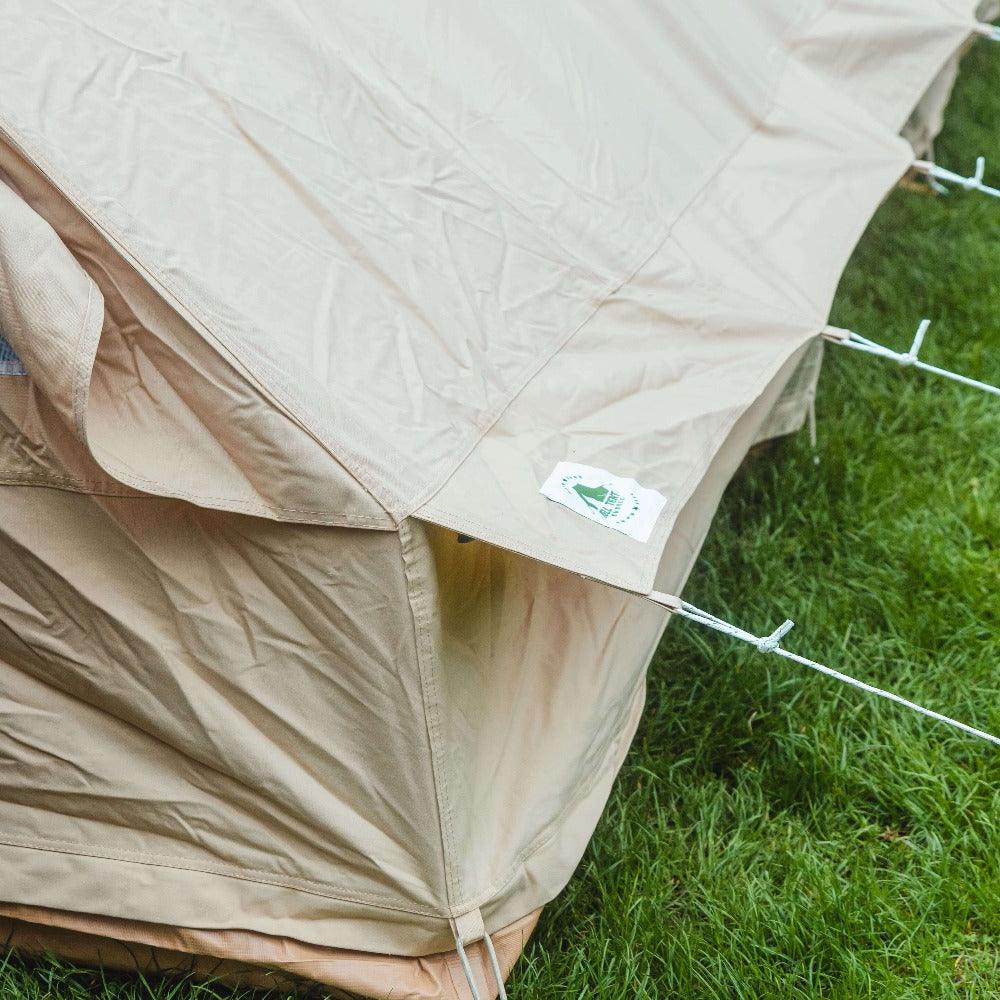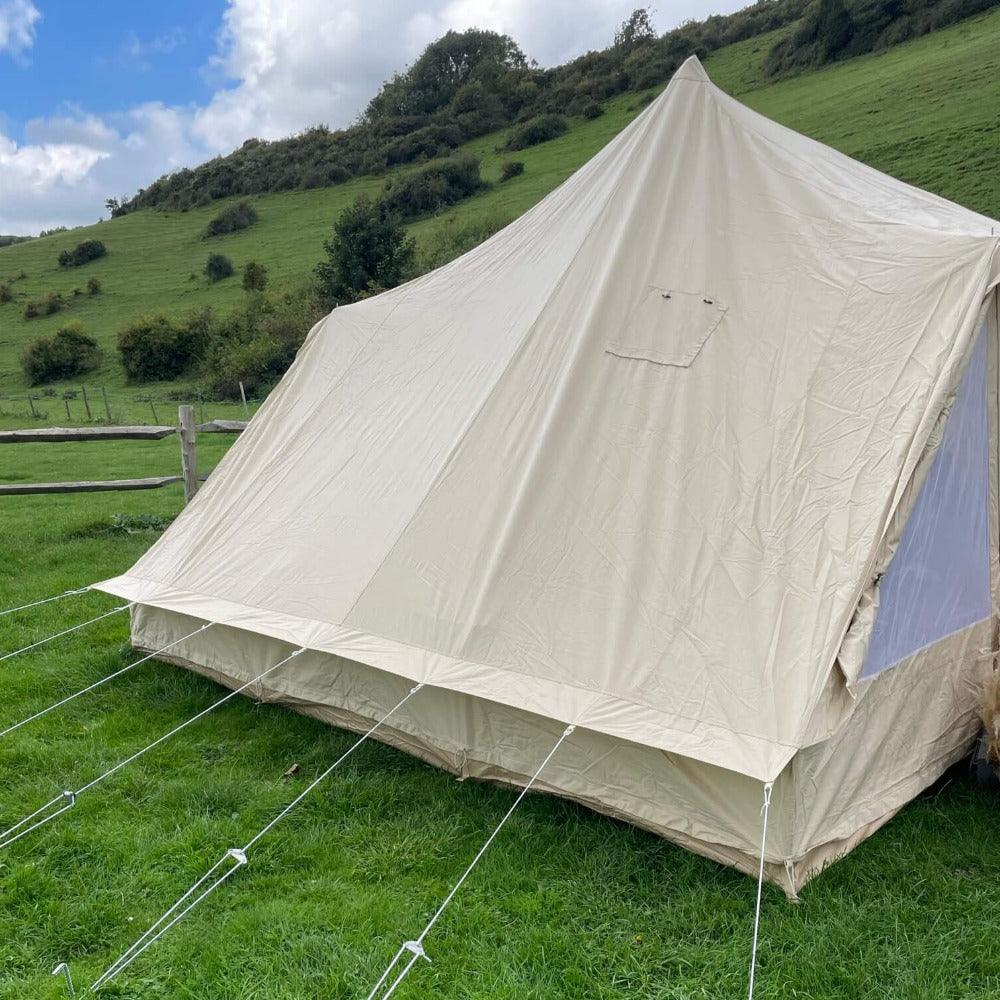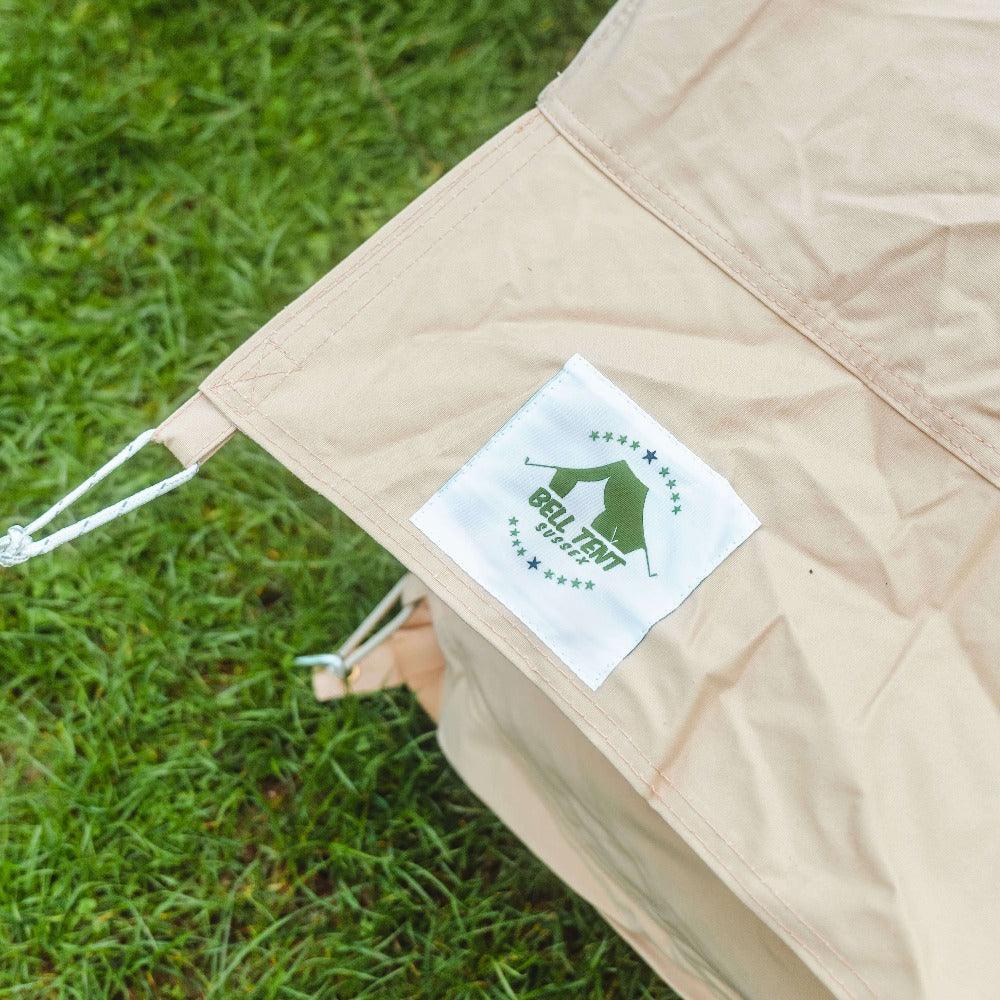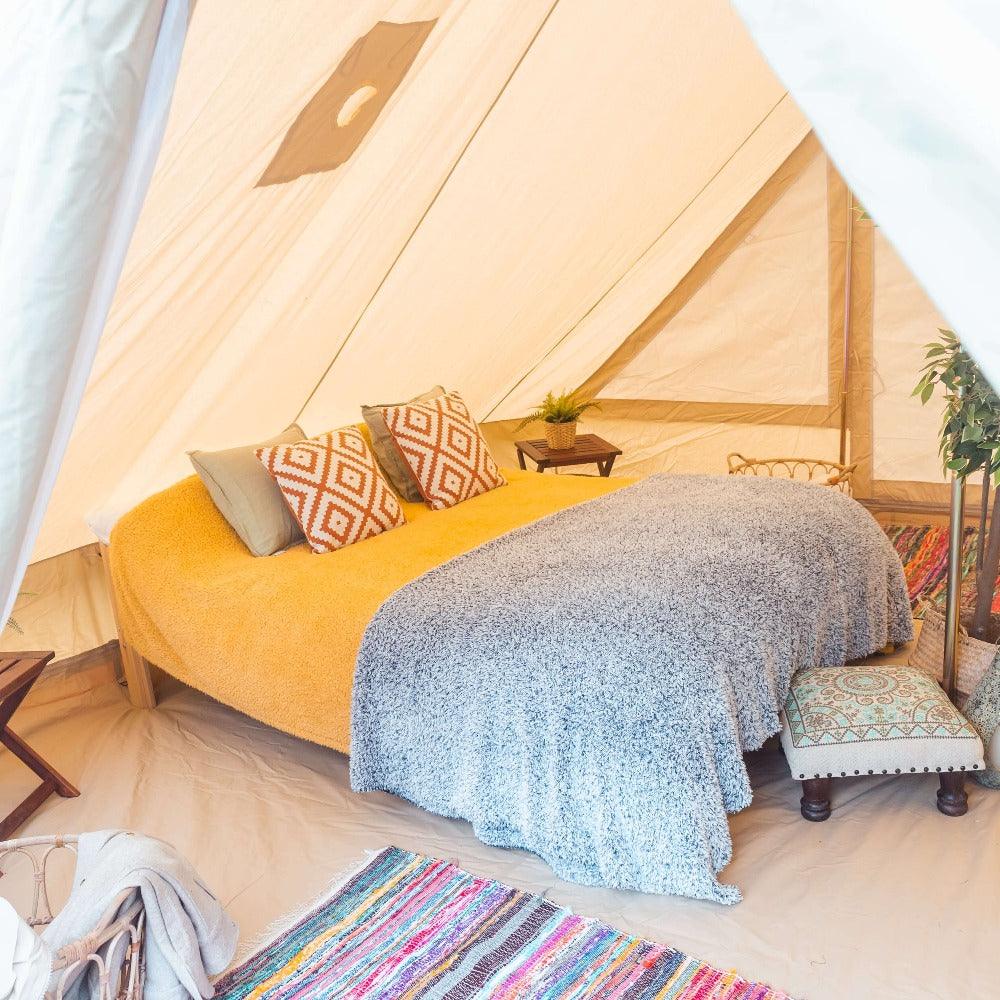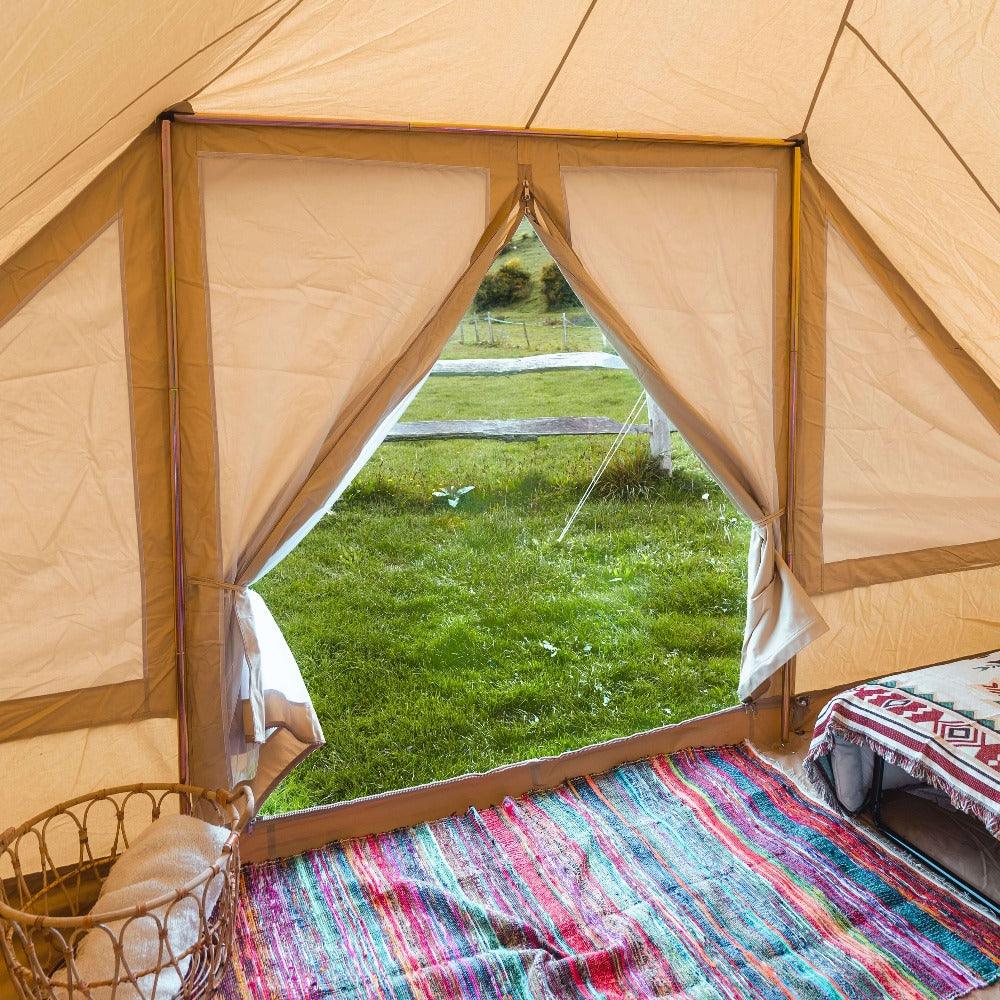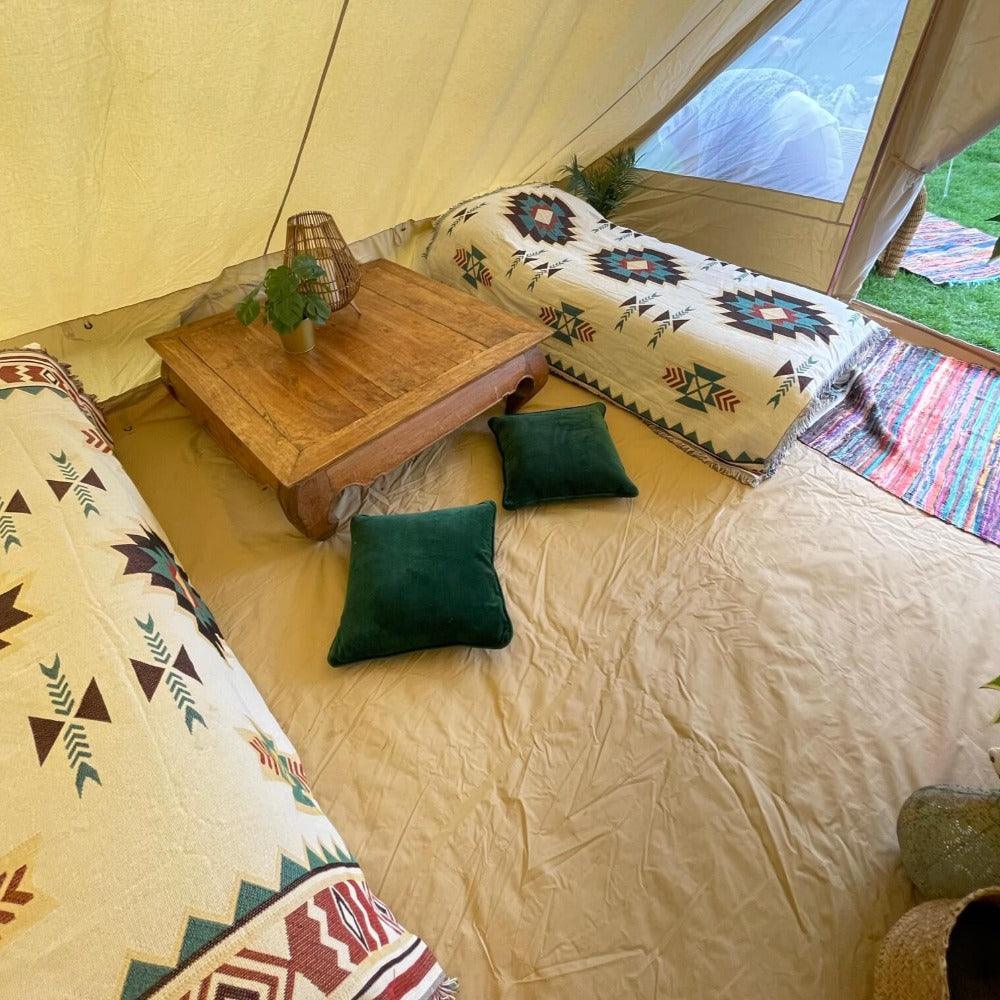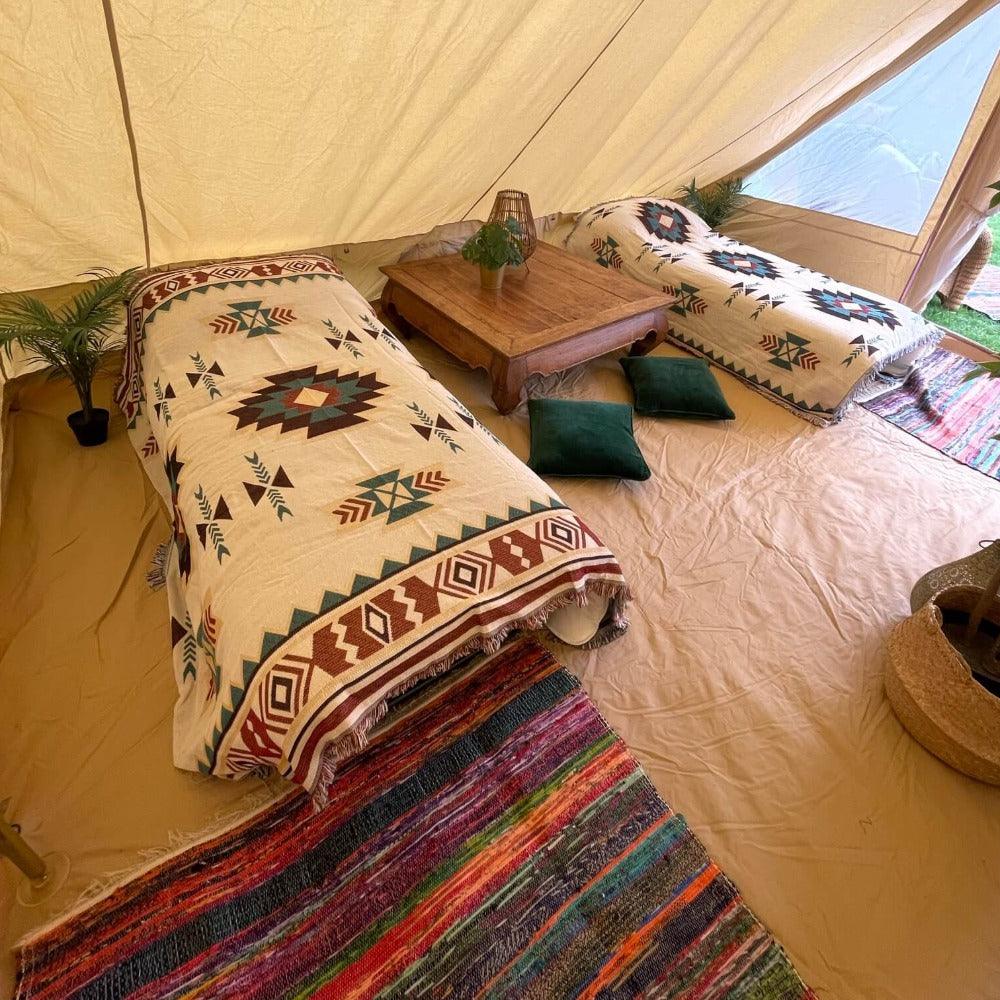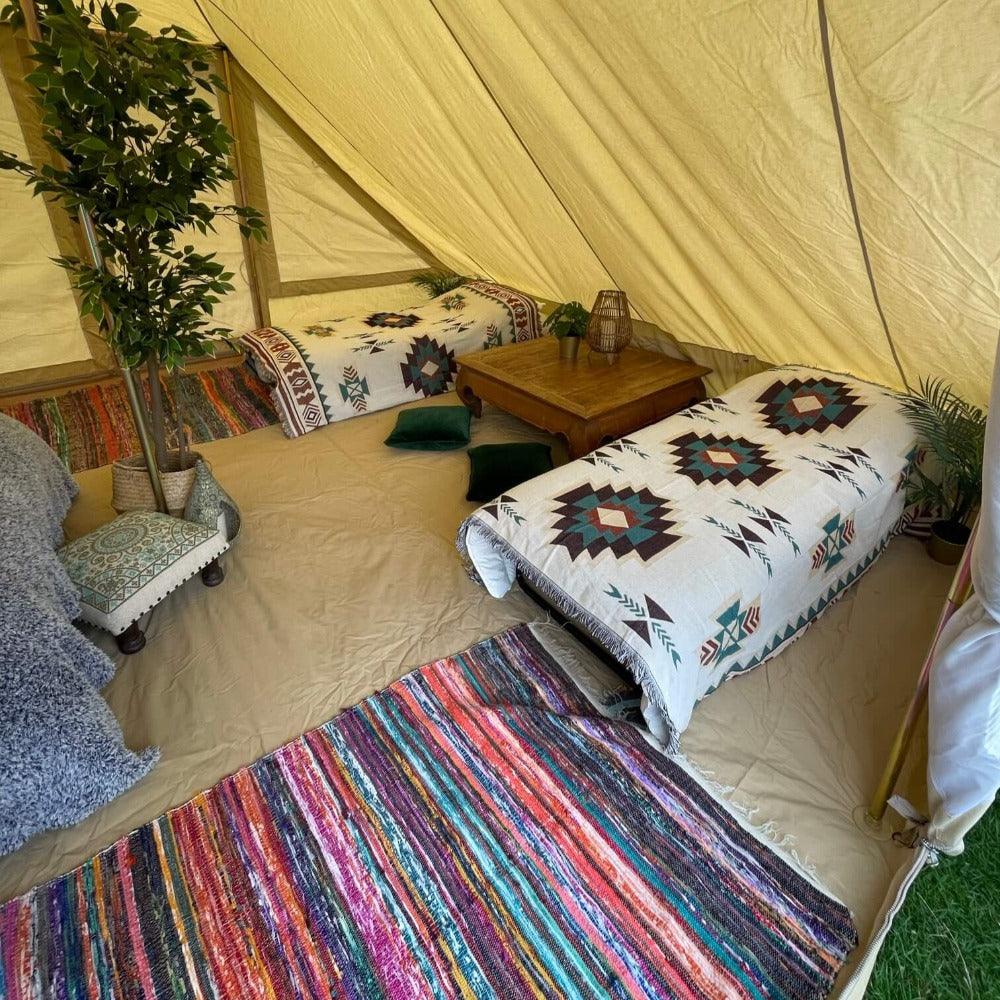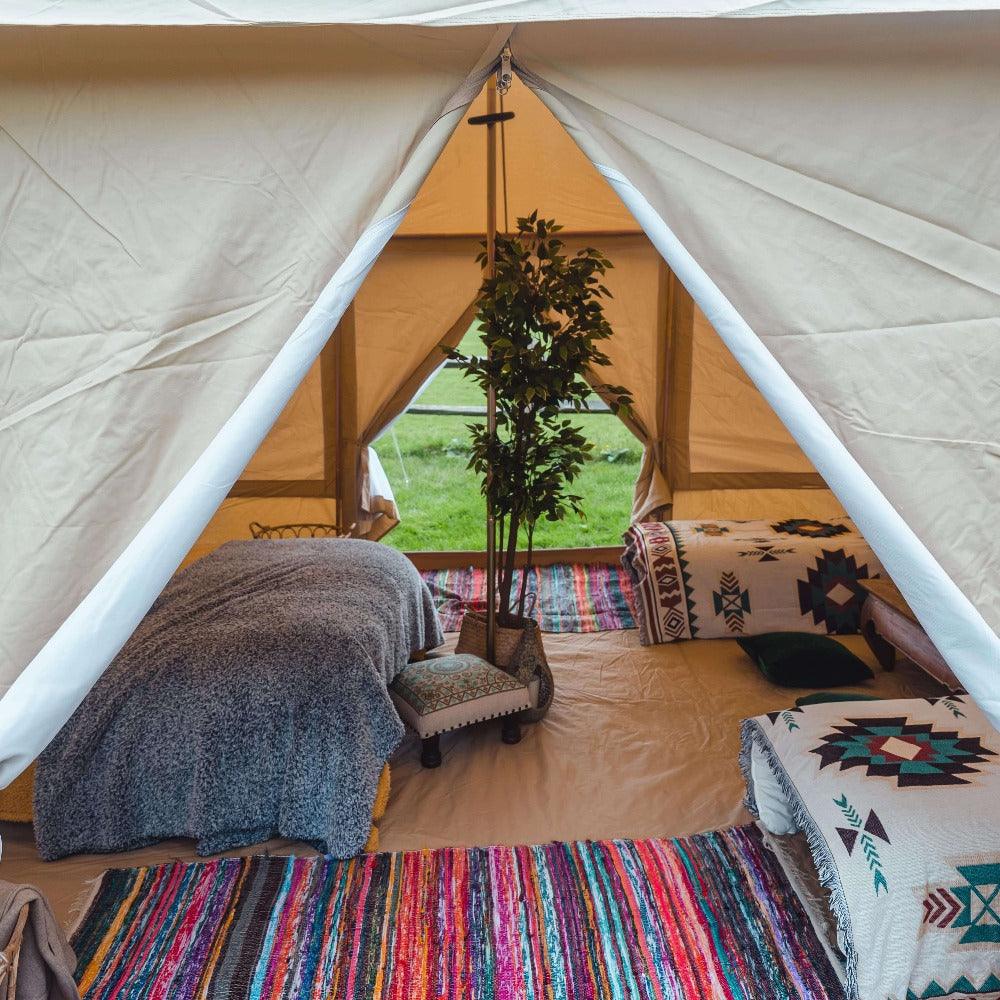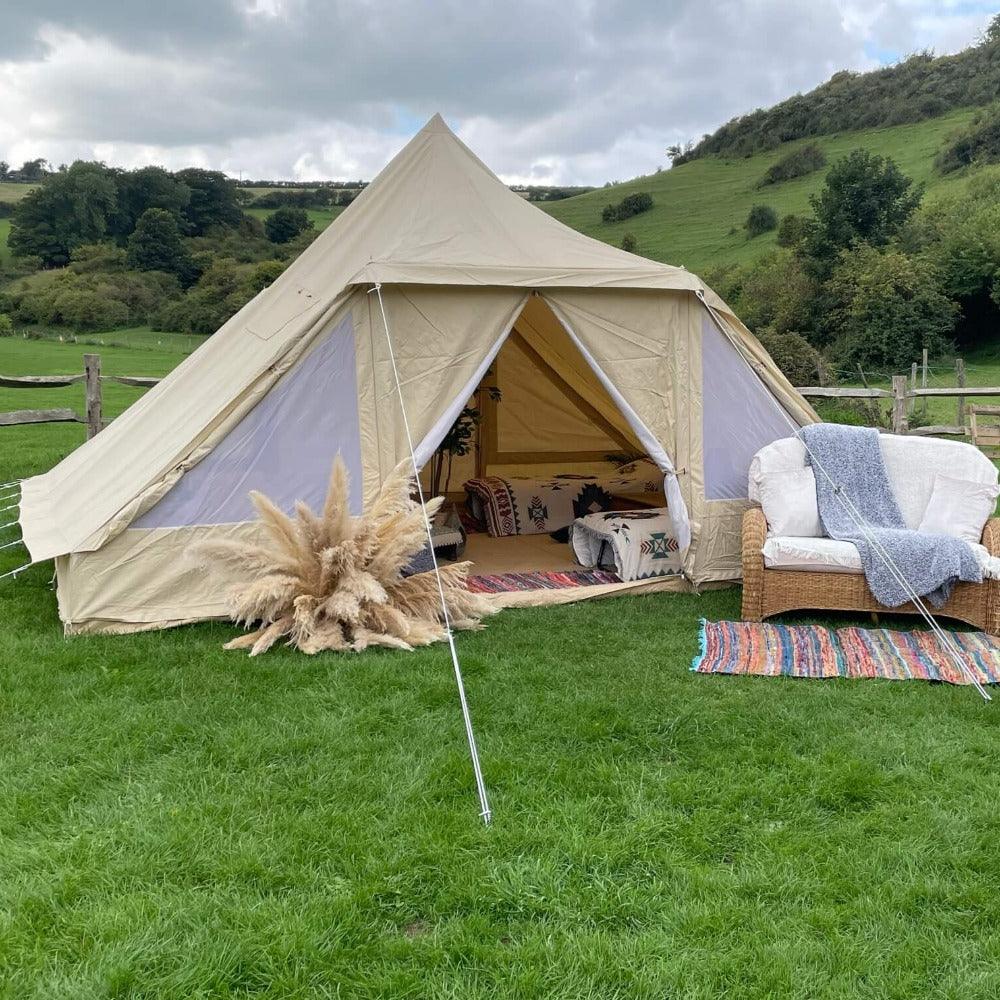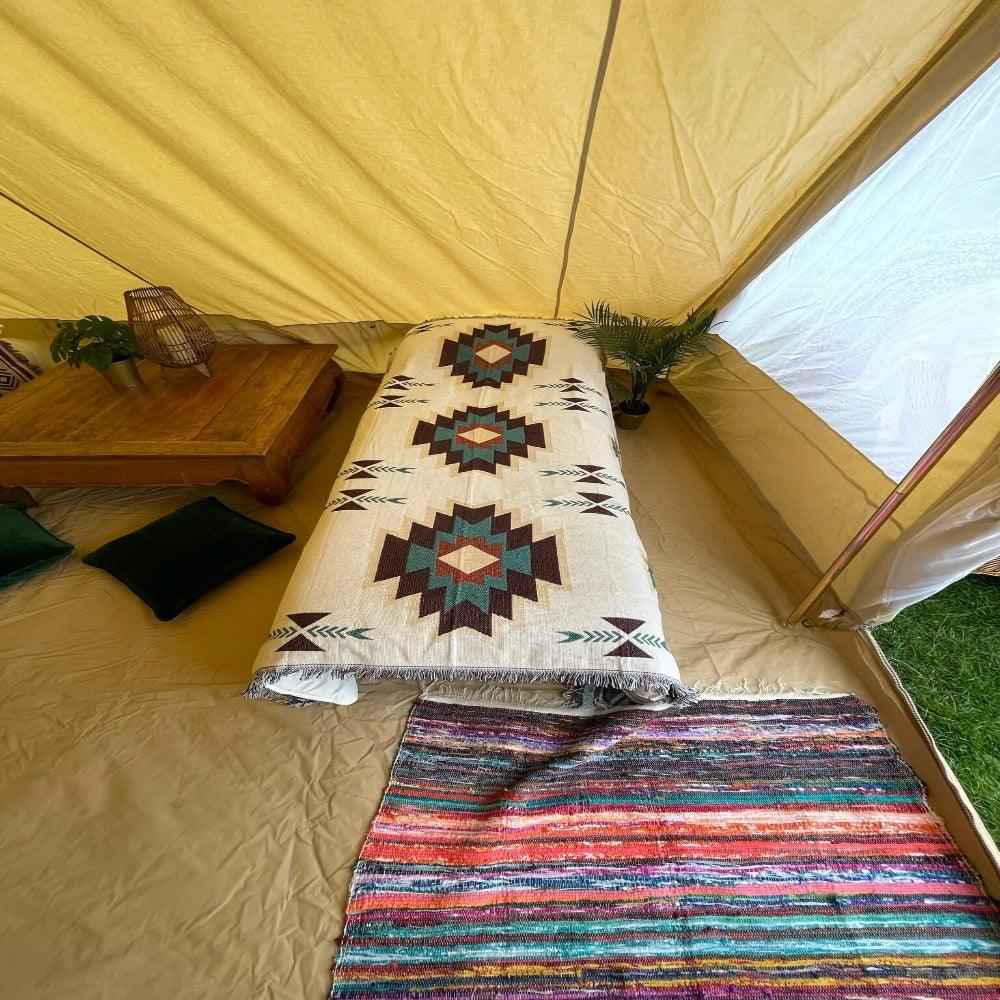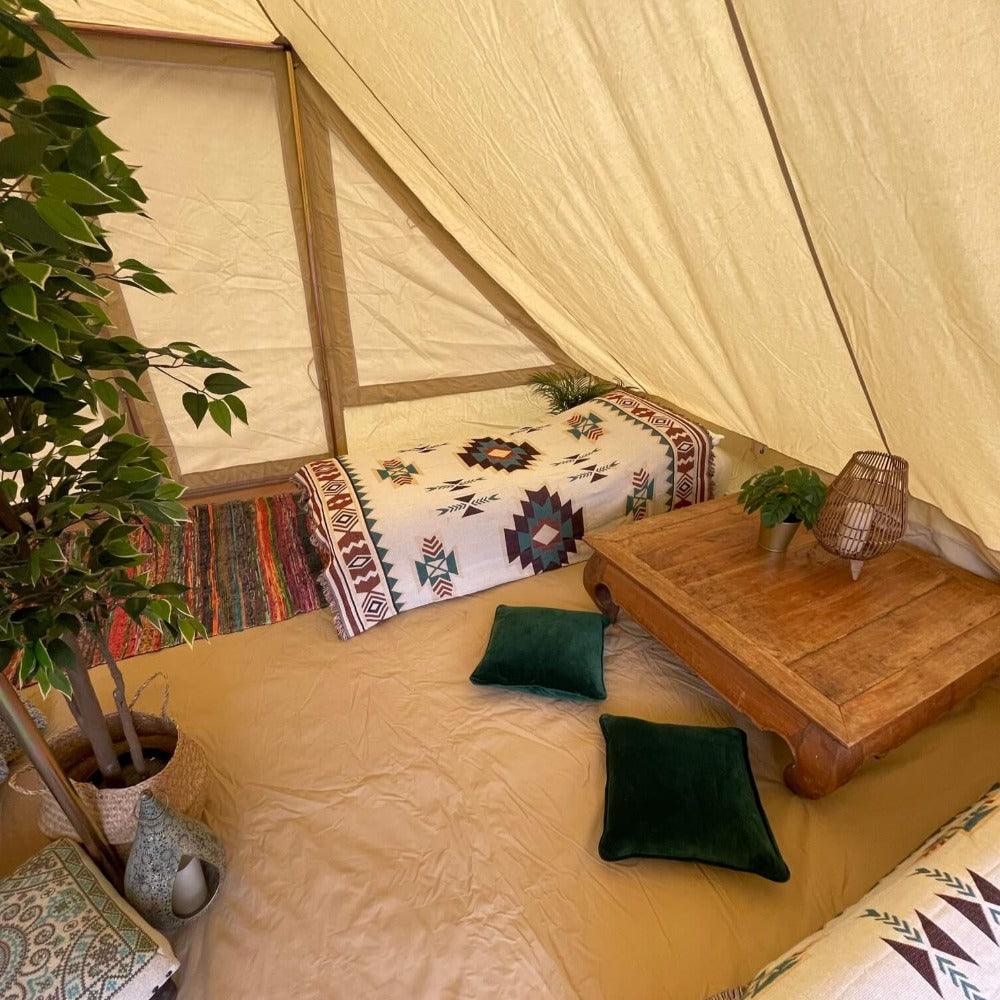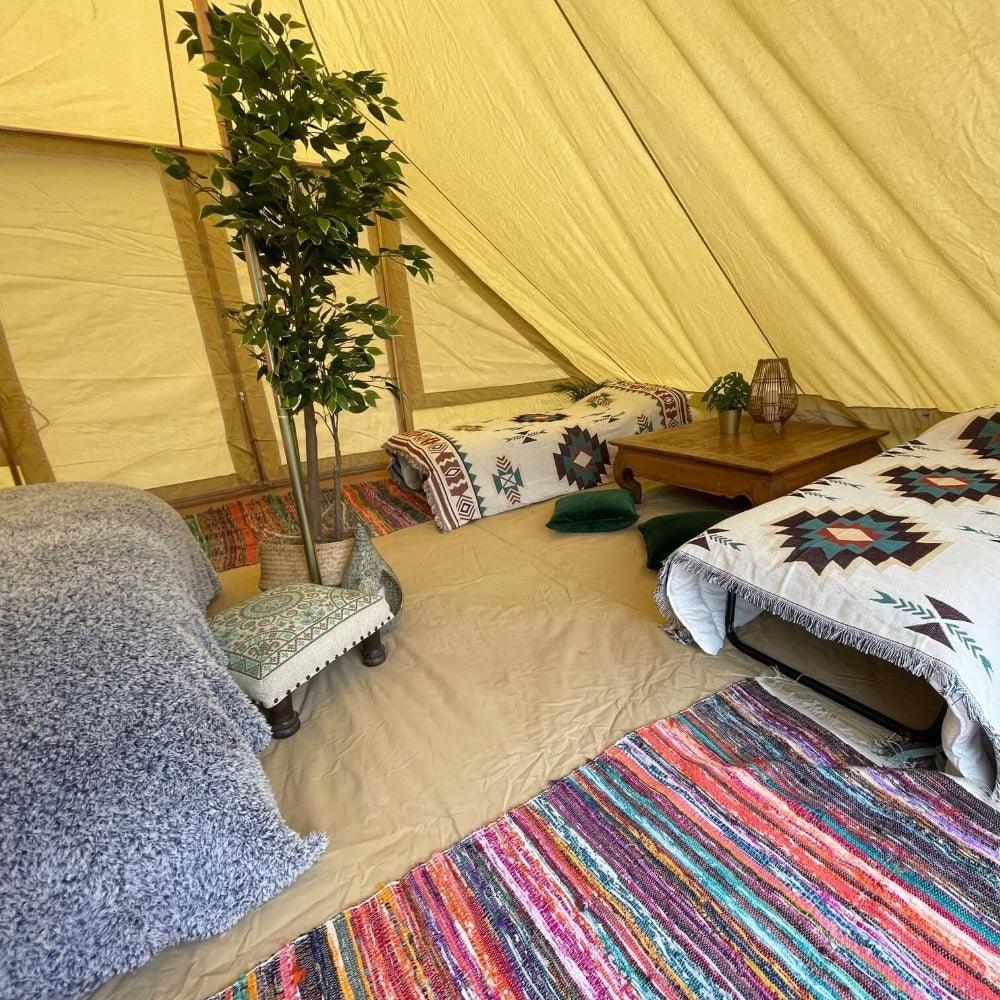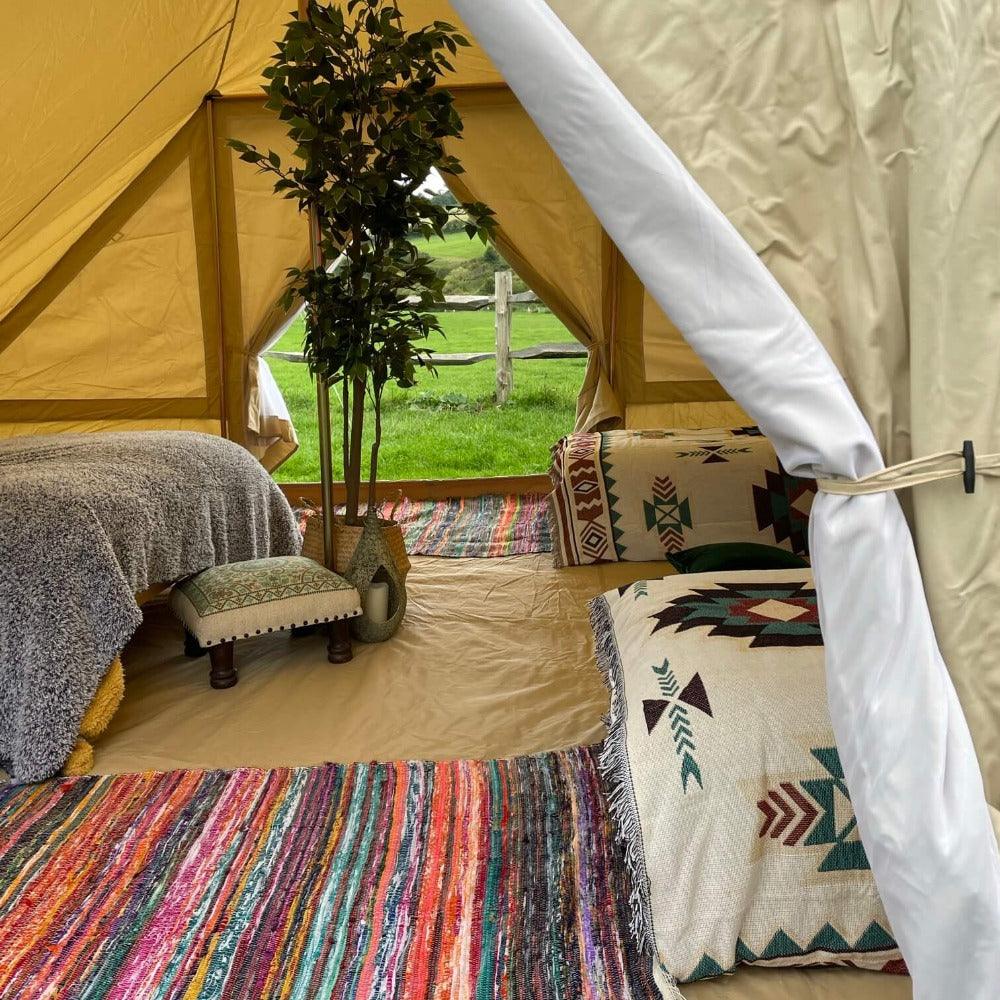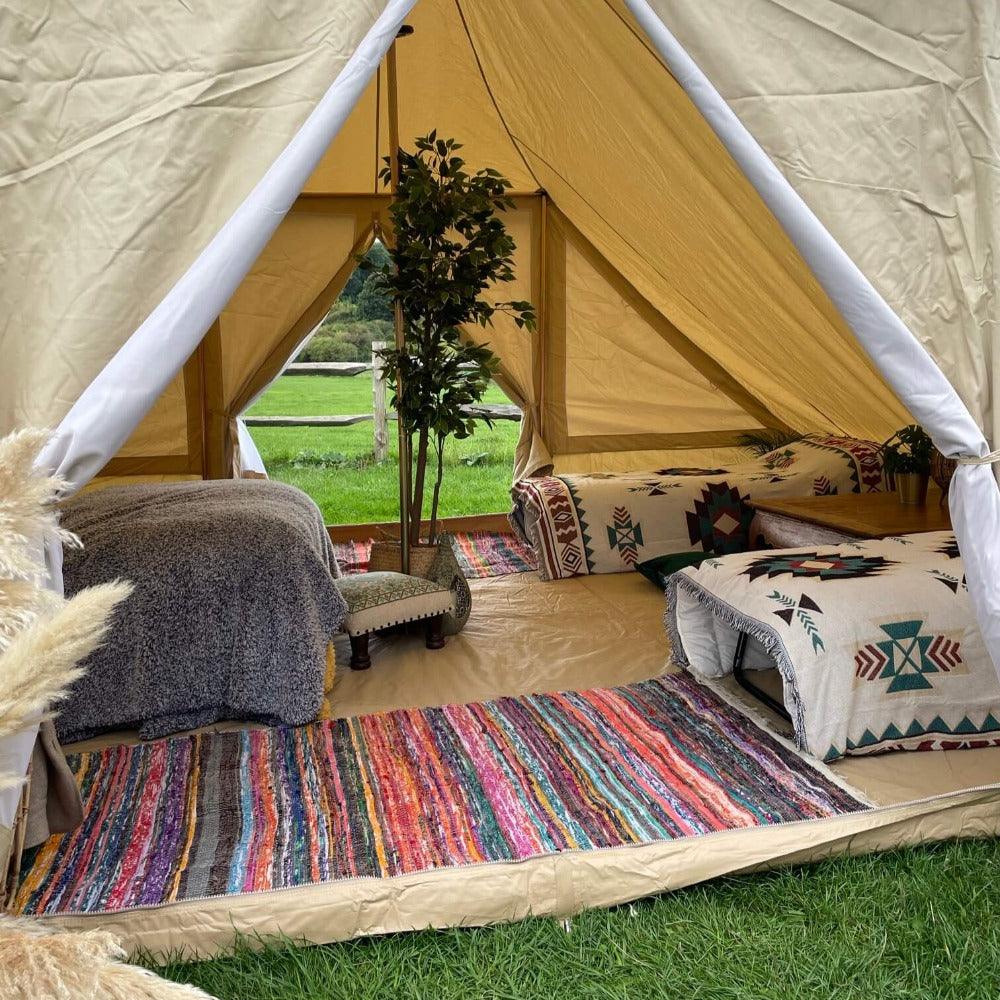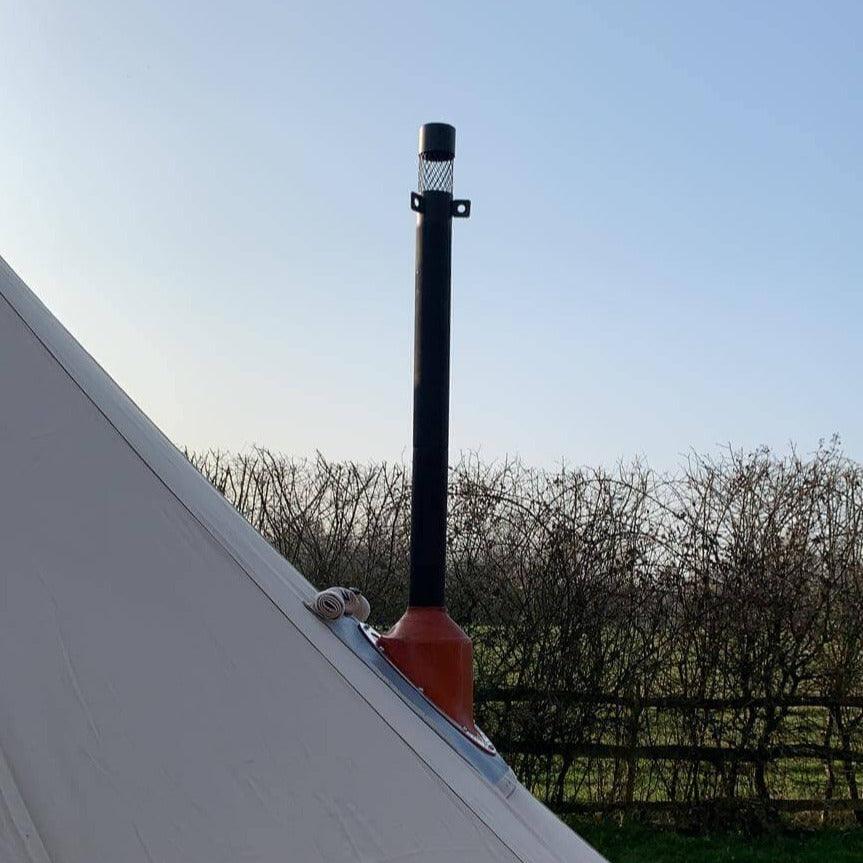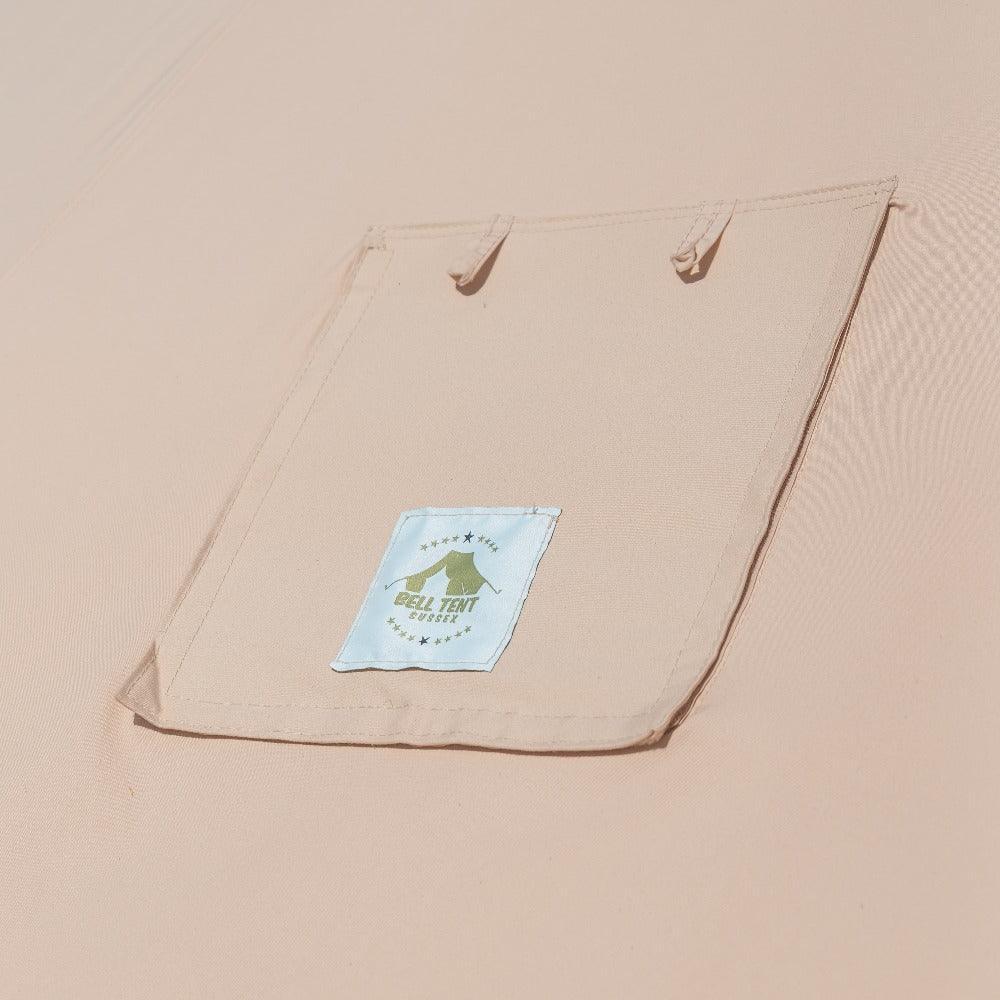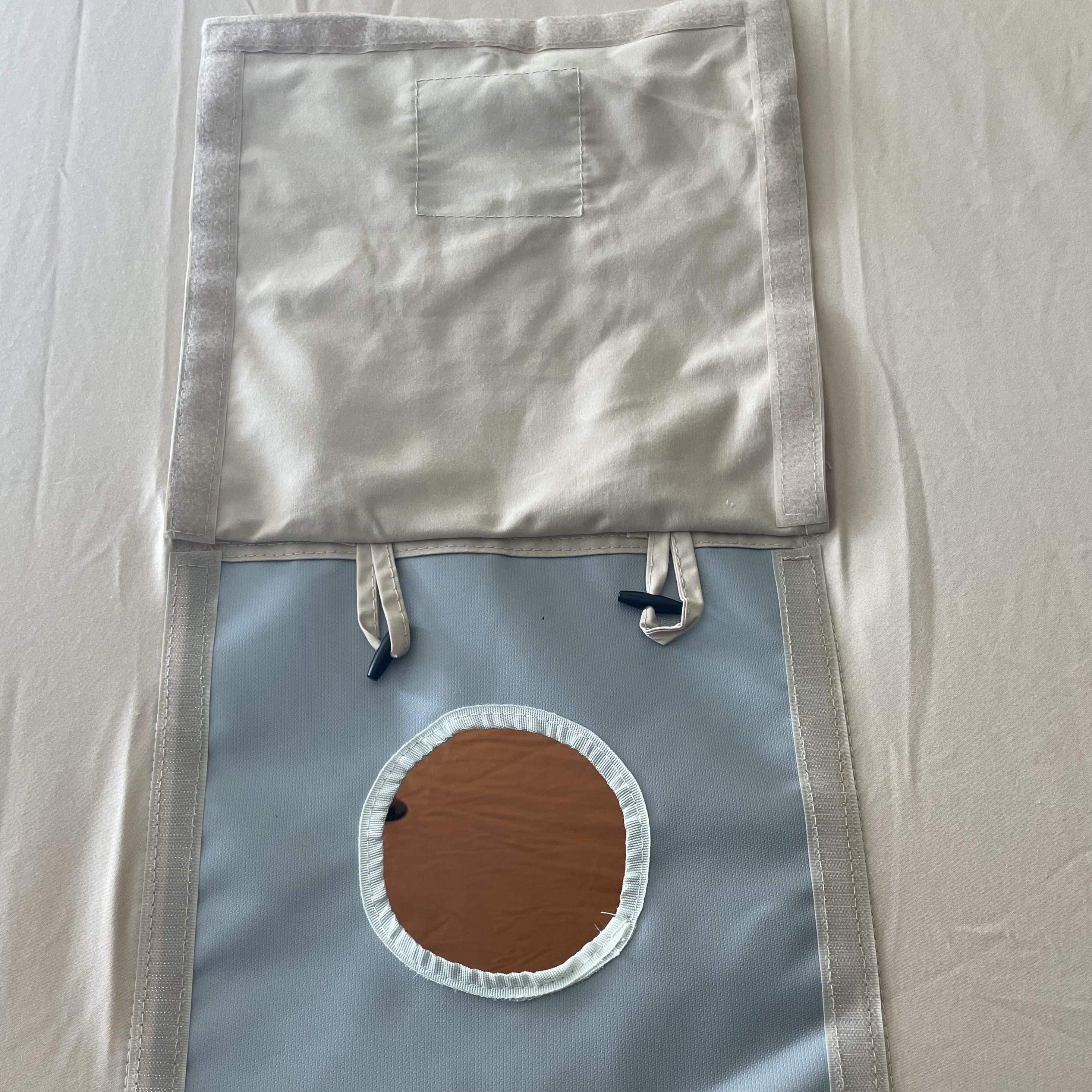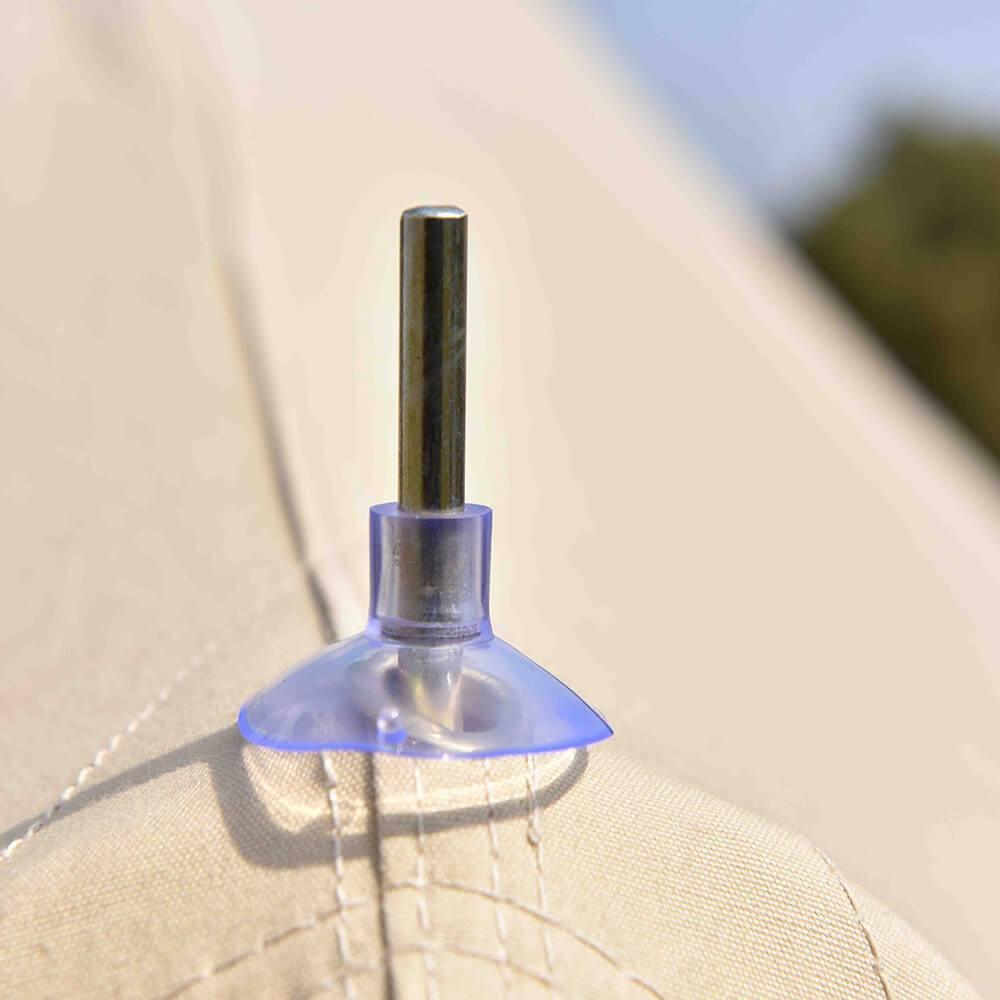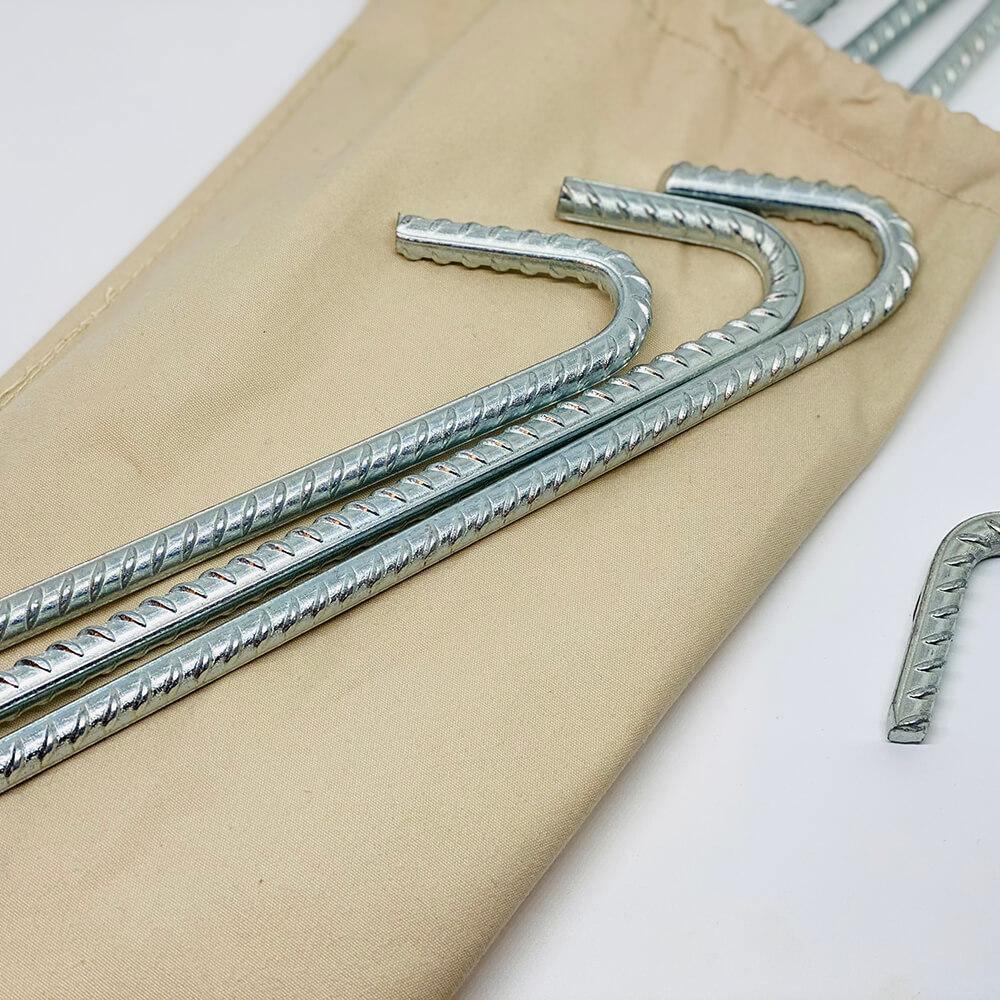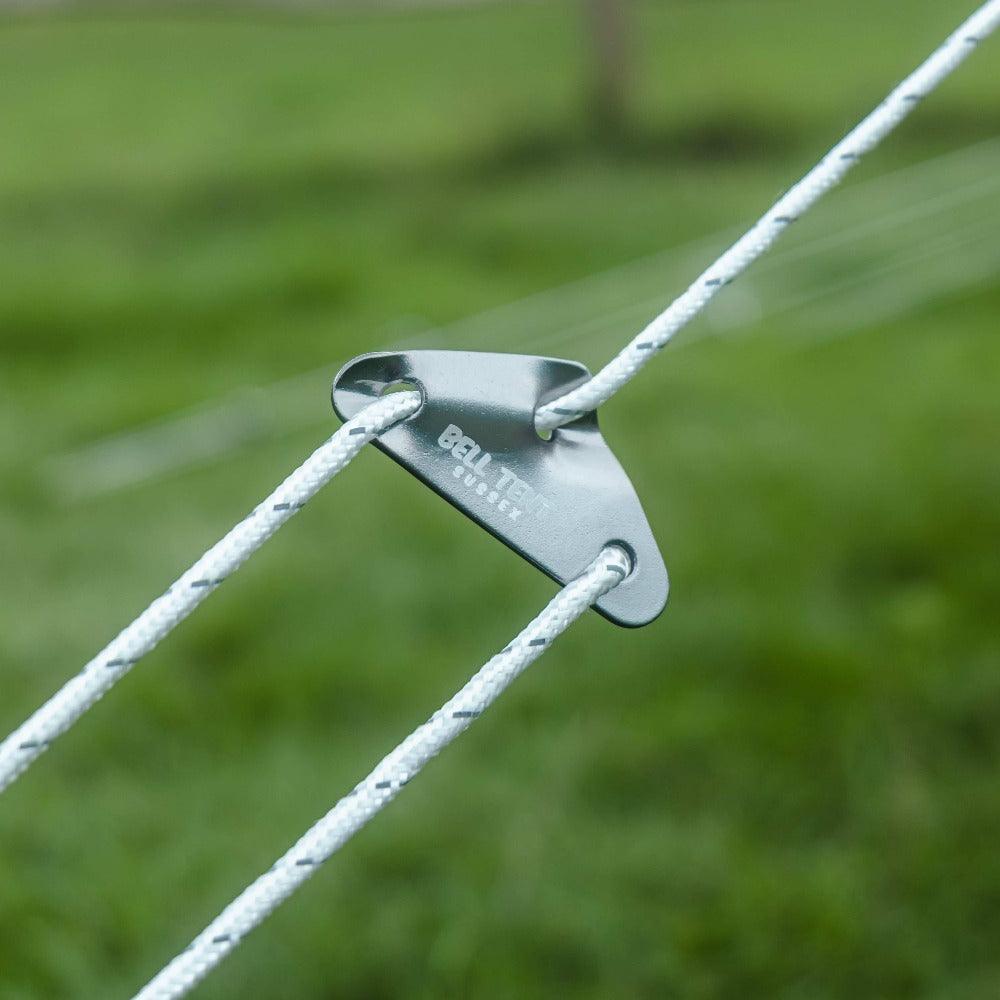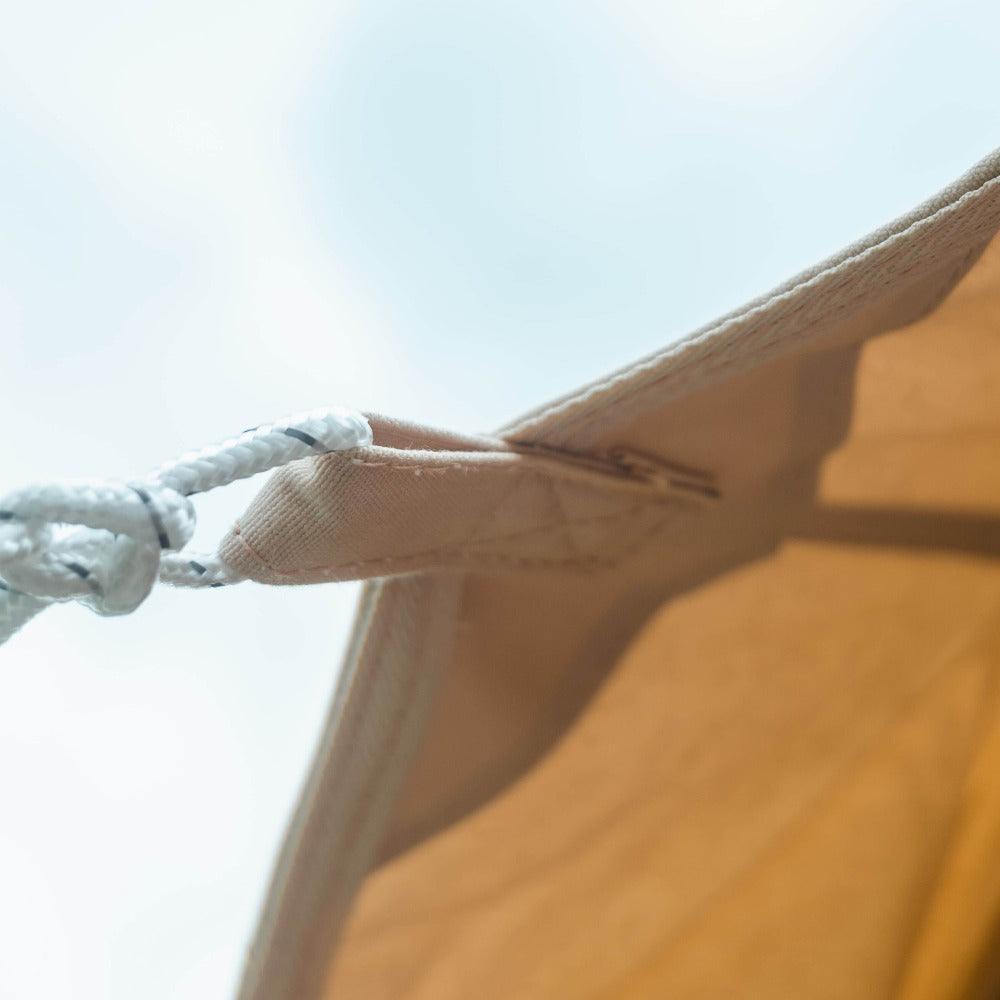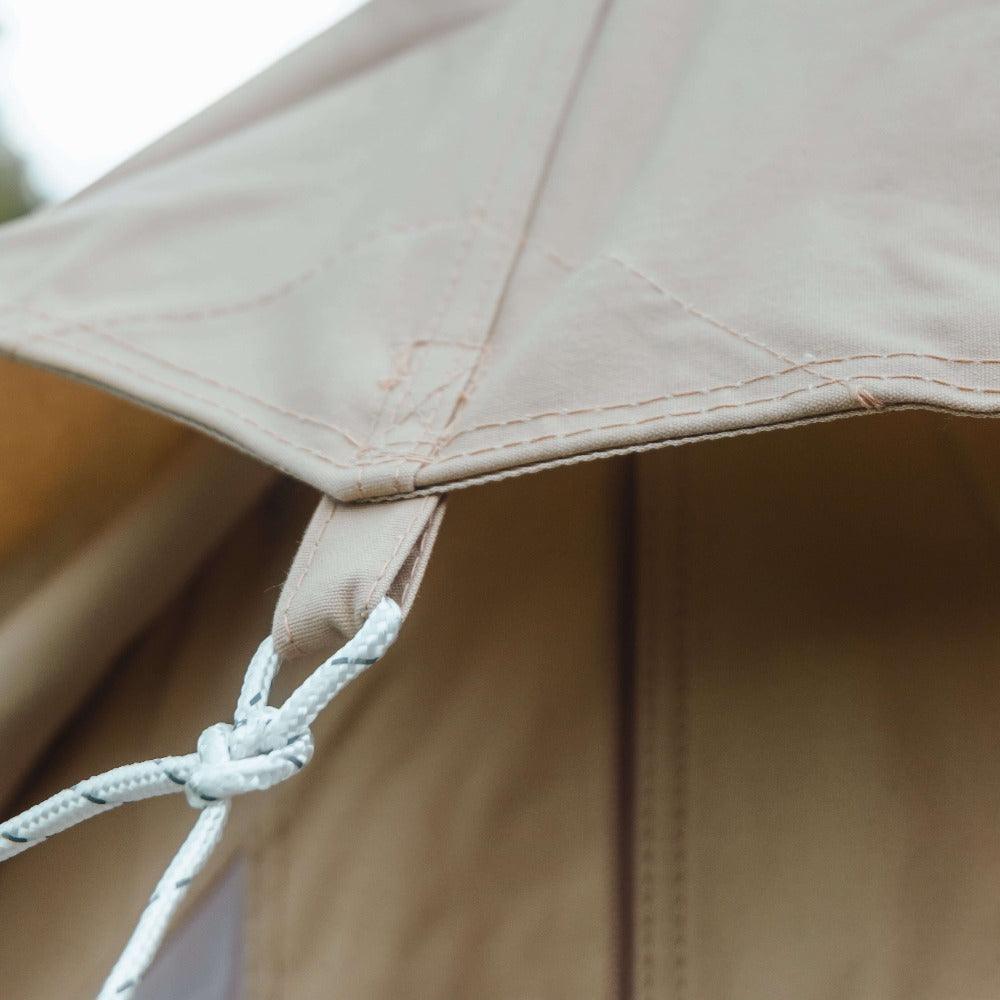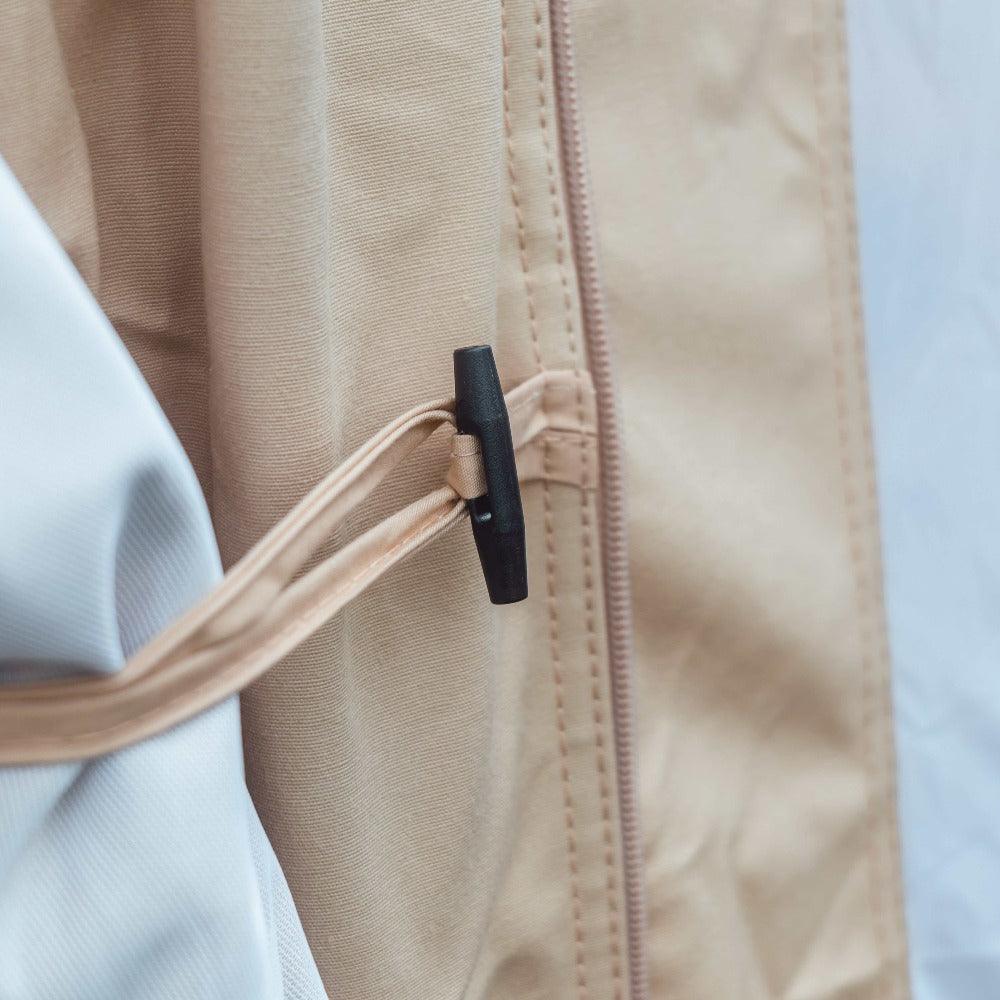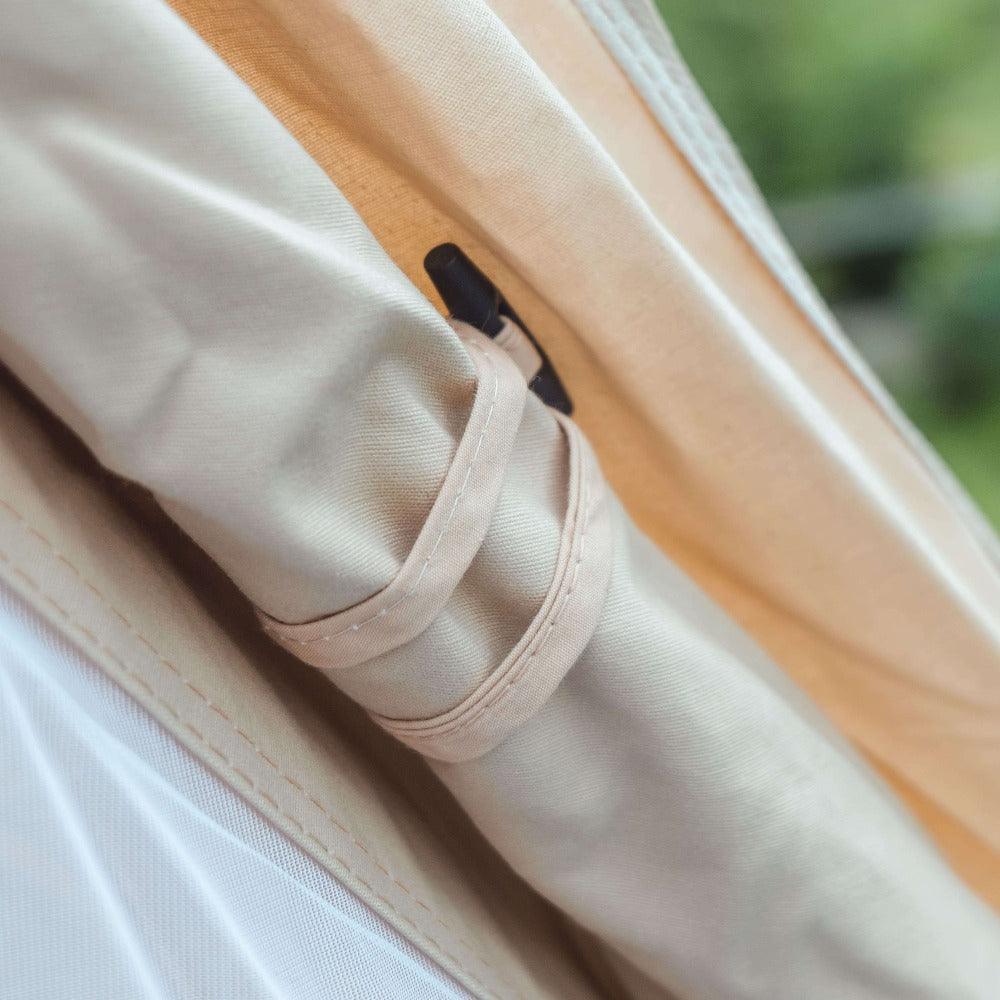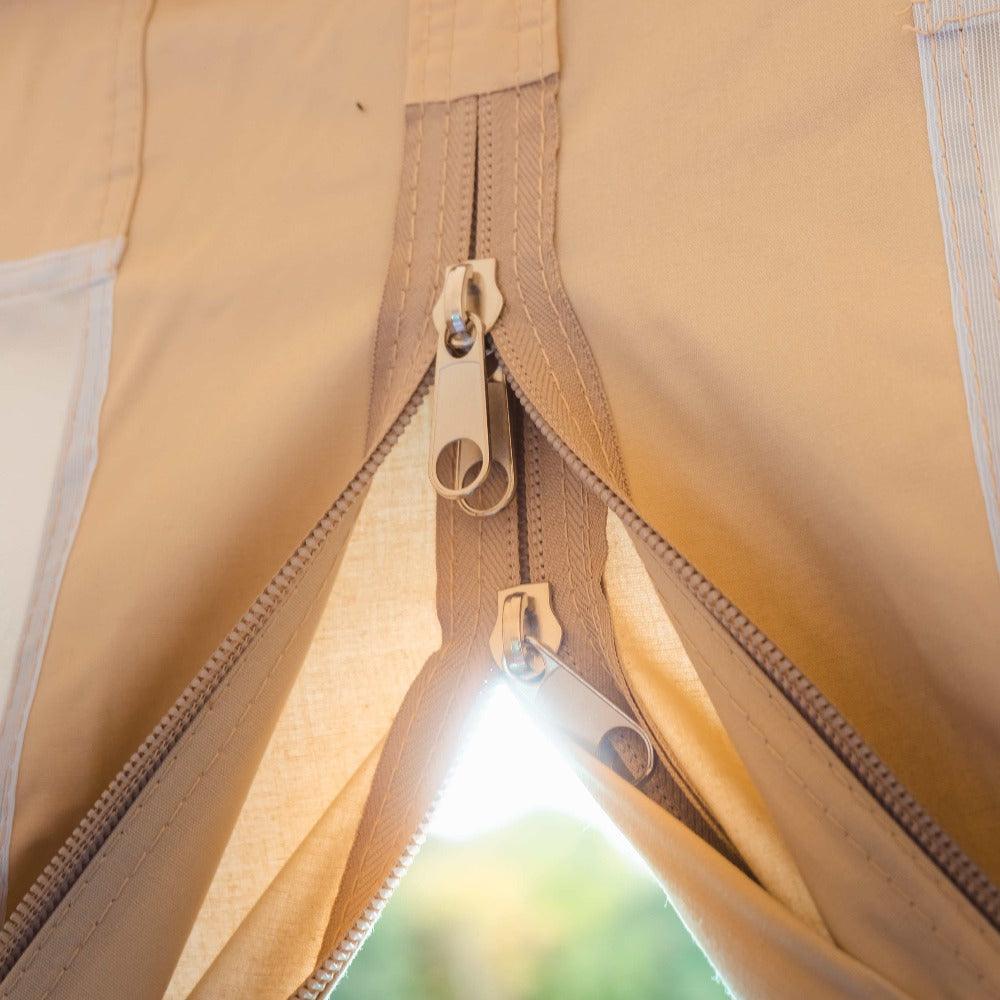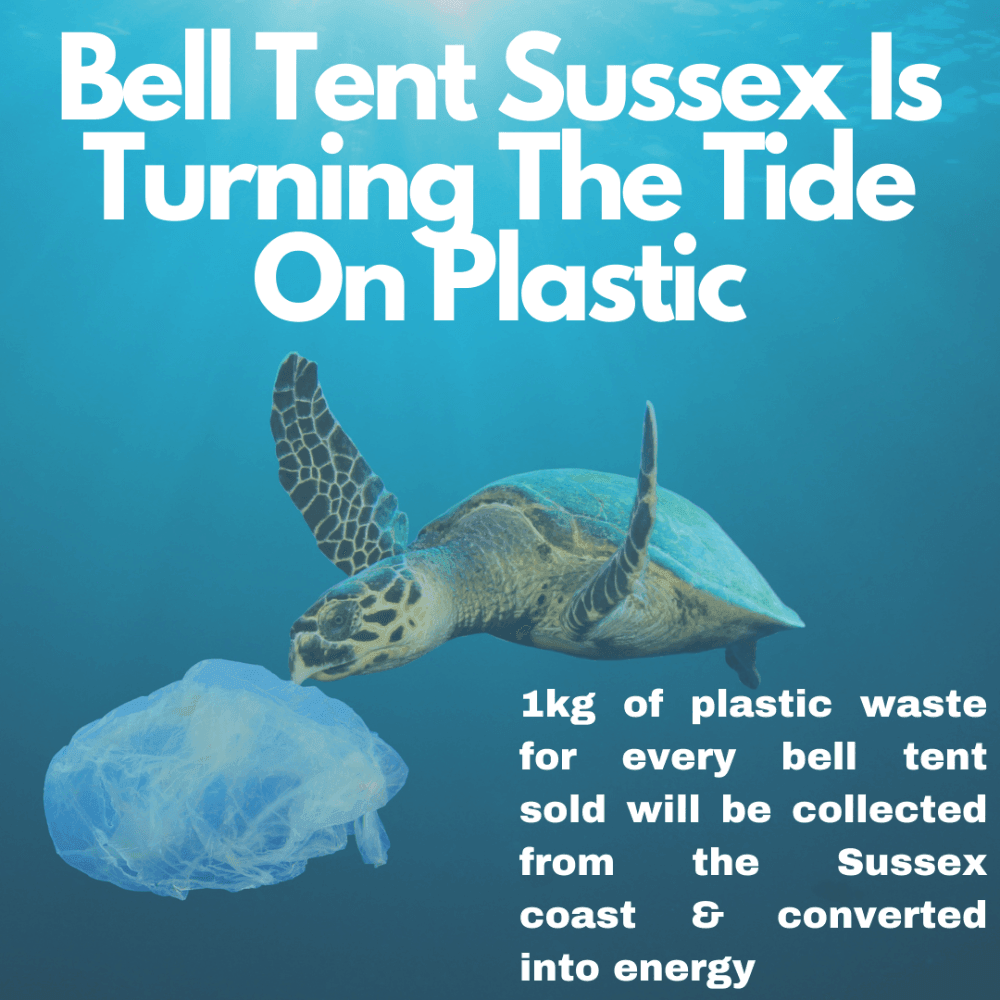 FAQs
Are bell tents waterproof?

Yes ! All Bell Tents and canvas tents when new need to be weathered. What this means is, beacuse the camping tents are made with cotton, it sometimes lets small amounts of water through the seams when straight out the bag. (nothing to worry about though) Once the canvas has been wet once, this will seal for life, expanding the cotton and creating a completely waterproof tent. All bell tents have been treated with a mould, rot & water repellent, it's always a good idea to keep treating your Bell Tent after a few seasons.
Do the Bell Tents have a detachable zipped in groundsheet?

YES 100%... It's a fantastic feature on all our Canvas Tents. The groundsheet when attached is completely waterproof and is made of 540gsm heavy-duty PVC. This is what can be detached from the canvas via a zip, giving you a lovley floating like canvas.
Can I leave my Bell Tent up all year?

Having a Bell Tent up all year especially in the garden is a brilliant idea, just make sure you keep on top of keeping it clean and making sure the vents are open on the days you are not using it to prevent moisture build up. Also maybe look into purchasing a cover to keep it looking like new.
Do I get a warranty or certification with my bell tent?

All our Canvas Tents have SGS certification and come with 12 months manufacturer's guarantee against manufacturing defects.
How To Set Up A Bell Tent & Take Down

Wondering how to set up a bell tent? Assembling and taking down a luxury canvas tents is easy! It only takes one person approximately 15 minutes. There is only one central pole plus the door frame. Peg and tighten the ropes and your canvas tent is ready to go! Follow this link to get a full description on how to put up a bell tent, and just as important how to pack it away. How To Set Up A Bell Tent